Home
||
Rajasthan Travel
|| Dance in Rajasthan

Dance in Rajasthan
Rajasthan is culturally rich and has extensive tradition in art and culture, which reflects Indian way life. The dance, music and art forms have been watchfully cultivated and patronised by the erstwhile courts. An equally rich and varied folk culture from villages is both fascinating & mesmerising.
The music is of uncomplicated innocence and songs depict day-to-day relationships and chores more often focal around bring of water. Rajasthan's cultural tapestry takes in simple folk to highly cultivated classical music and dance in its own distinct style.
In the realm of the folkways dance and music rule supreme and one cannot think of Rajasthan without this important element of its folk life. A large variety of musical instruments is used in the countryside.
It ranges from the soft tinklers to thunderous kettledrums; from simple, slender flutes to intriguing trumpets; and from the rustic looking resonators for basic rhythm to elegant and fully developed bowing or plucking devices.
It is a fascinating sight to see the folk musicians of Rajasthan with their musical instruments, who besides dressing themselves in colourful attire, also decorate and embellish their instruments with beautiful trappings and ornamental coverings. They are a people with music in their souls.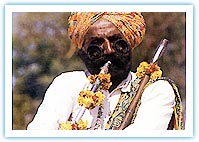 Their amazingly rich music has an extraordinary individuality, tradition and exotic flavor, which gives a distinctive feature and quality to their musical sounds, and a certain pulse which does not fail to fascinate the listener, staying like lingering perfume.
They have songs for every occasion with rich emotional content, almost an endless variety of tunes, quite a few delightful dance forms, and a large number of musical instruments, all a collective creation of the folks which is retained by them in its traditional form and character and passed from one generation to the other.
The people of Rajasthan live life to the hilt. After hard work in the harsh desert sun and the rocky terrain whenever they take time off they let themselves go in gay abandon. There is dancing, singing, drama, devotional music and puppet shows and other community festivities which transform the hardworking Rajasthani into a fun-loving and carefree individual. Each region has its own folk entertainment, the dance styles differ as do the songs. Interestingly enough, even the musical instruments are different.
Click here for More Details......