Home
||
Kerala Tourism
|| Wildlife in Kerala

Wildlife in Kerala
The Idukki Wildlife Sanctuary
A l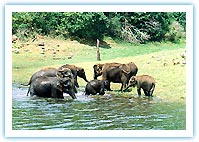 and-locked district, Idukki is one of the most nature rich areas of Kerala. The Idukki Wildlife Sanctuary here spreads over an area of 77 sq km in the Thodupuzha and Udumpanchola taluks of the district.
The Periyar Wildlife Sanctuary
The pride of Kerala and a testimony to nature's splendour and human innovation, the Periyar Wildlife Sanctuary is situated on the banks of the Periyar lake - an artificial lake, at Thekkady.
Begur Wildlife Sanctuary
The district of Wayanad lies on an elevated picturesque mountainous plateau in the Western Ghats. Historians are of the opinion that organised human life existed in these parts of Kerala at least ten centuries before Christ.
Nagarhole Wildlife Sanctuary
(40 km from Mananthavady) This sanctuary in Karnataka state extends over an area of 643.39 sq km. The park houses diverse species of plant and animal life.
Wayanad Wildlife Sanctuary
Established in 1973, the Wayanad Wildlife Sanctuary is contiguous to the protected area network of Nagarhole and Bandipur of Karnataka on the northeast and Mudumalai of Tamil Nadu on the southeast.

Click here for More Details......