Home
||
Honeymoon Tours
|| Manali Honeymoon Tour

Manali Honeymoon Tour
Places to See :
Delhi - Kullu - Manali - Riyali - Kali Pani - Lamapar - Dalmarhi - Barabhangal - Thamsar - Pannatu - Palachak - Amritsar
Duration :
22 nights / 23 days
Day 01:
Arrive Delhi, meet and transfer to Hotel. Stay overnight at Hotel.
Day 02:
Take the dramatic morning flight to Kullu, then continue by jeep to Manali.
Day 03:
Day free to explore Manali. Stay overnight at Hotel.
Day 04:
We spend an additional day in the Kullu valley, to explore the surrounding region.
Day 05:
Trek out of Manali to the open meadow of Lamadug.
Day 06:
Trek to Riyali, just above the treeline.
Day 07:
Continue to the base camp of Kali Yani pass.
Day 08:
Rest day in this spectacular natural setting at the base of the pass.
Day 09:
Over Kali Yani Pass (4725 metres) to our streamside camp at Donku Thach.
Day 10: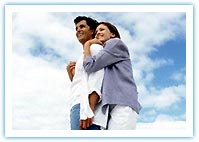 Continue down valley to the shepherd camp at Lamapar.
Day 11:
Through a verdant valley with peaks all around to our camp at Dalmarhi.
Day 12:
We reach our first village in 7 days, Barabhangal.
Day 13:
A rest day in the fascinating medireview village of Barabhangal.
Day 14:
A steady climb to our camp at the base of Thamser Pass.
Day 15:
Over Thamser Pass (4570 metres) to Pannatu.
Day 16:
Along the river and through the woods to the tiny settlement of Palachak.
Day 17:
We are now in more inhabited country and we pass several small villages on the way to our camp at the village of Biling.
Day 18:
We continue down to the Tibetan refugee camp at Bir, then travel by jeep to McLeod Ganj, home of Tibet's government-in-exile.
Day 19-20:
We spend two additional days in McLeod Ganj to visit the Tibetan library, local Buddhist monasteries, and the town's colorful marketplace.
Day 21:
We travel by jeep to Amritsar, site of the Golden Temple, the holiest shrine of the Sikh religion. Overnight there.
Day 22:
Early morning Express train to Delhi. Check in Hotel. Stay overnight at Hotel.
Day 23:
Depart-Delhi, Transfer to airport for flight to onwards journey.
Click here for More Details......