Home ||
Indian Cuisine
The unforgettable aroma of India is not just the heavy scent of jasmine and roses on the warm air. It is also the fragrance of spices so important to Indian cooking - especially to preparing curry. The world "curry" is an English derivative of "kari", meaning soice sauce, but curry does not, in India, come as a powder. It is the subtle and delicate blending of spices such as turmeric, cardamom, ginger, coriander, nutmeg and poppy seed. Like an artist's palette of oil paints, the Indian cook has some twenty-five spices (freshly ground as required) with which to mix the recognized combinations or "masalas". Many of these spices are also noted for their medicinal properties. They, like the basic ingredient, vary from region to region. Although not all Hindus are vegetarians, you will probably eat more vegetable dishes than is common in Europe, particularly in South India. Indian vegetables are cheap, varied and plentiful and superbly cooked.
Broadly speaking, meat dishes are more common in the north, notably Rogan Josh (curried lamb), Gushtaba (spicey meat balls in yoghurt), and the delicious Biriyani (chicken or lamb in orange flavoured rice, sprinkled with sugar and rose water).
Mughlai cuisine is rich, creamy, deliciously spiced and liberally sprinkled with nuts and saffron. The ever popular Tandoori cooking (chicken, meat or fish marinated in herbs and baked in a clay oven) and kebabs are also northern cuisine.
In the south, curries are mainly vegetable and inclined to be more hot. Specialities to look out for are Bhujia (vegetable curry), Dosa, Idli and Sambar (rice pancakes, dumplings with pickles and vegetable and lentil curry), and Raitas (yoghurt with grated cucumber and mint). Coconut is a major ingredient of South Indian cooking. On the West coast there is a wide choice of fish and shellfish; Bombay duck (curried or fried bomnloe fish) and pomfret (Indian salmon) are just two. Another specialty is the Parsi Dhan Sak (lamb or chicken cooked with curried lentils) and Vindaloo vinegar marinade. Fish is also a feature of Bengali cooking as in Dahi Maach (curried fish in yoghurt flavoured with turmeric and ginger) and Malai (curried prawn with coconut).
One regional distinction is that whereas in the south rice is the staple food, in the north this is supplemented and sometimes substituted by a wide range of flat breads, such as Pooris, Cha
ppatis and Nan. Common throughout India is Dhal (crushed lentil soup with various additional vegetables), and Dhai, the curd or yoghurt which accompanies the curry. Besides being tasty, it is a good "cooler"; more effective than liquids when things get too hot. Sweets are principally milk based puddings, pastries and pancakes. Available throughout India is Kulfi, the Indian ice cream, Rasgullas (cream cheese balls flavoured with rose water), Gulab Jamuns (flour, yoghurt and ground almonds), and Jalebi (pancakes in syrup). Besides a splendid choice of sweets and sweetmeats, there is an abundance of fruit, both tropical – mangoes, pomegranates and melons – and temperate apricots, apples and strawberries. Western confectionery is available in major centres. It is common to finish the meal by chewing Pan as a digestive. Pan is a betel leaf in which are wrapped spices such as aniseed and cardamon.
Another custom is to eat with your fingers but remember only of the right hand ... Besides the main dishes, there are also countless irresistible snacks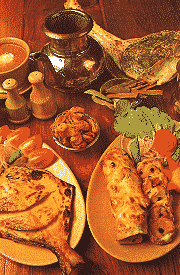 available on every street corner, such as samosa, fritters, dosa and vada. For the more conservative visitor, western cooking can always be found. Indeed, the best styles of cooking from throughout the world can be experienced in the major centres in India. Tea is India's favourite drink,and.many of the varieties are famous the world over. It will often come ready brewed with milk and sugar unless "tray tea",is specified. Coffee is increasingly popular..Nimbu Pani (lemon drink), Lassi (iced buttermilk) and coconut milk straight from the nut are cool and refreshing. Soft drinks (usually sweet) and bottled water are widely available, as, are 'Western alcoholic drinks. Indian beer and gin are comparable with the world's best, and are not expensive. Note that Liquor Permits are required in Tamil Nadu and Gujarat.
The variety of Indian cooking is immense, it is colourful and aromatic, it can be fiery or not as desired and it is inexpensive even at the top class hotels. No wonder, then that it is now the third most popular cuisine in the world nor will it be any more surprising when it becomes the first.